Those patients who are reliable on the eye glasses or contact lens can undergo laser vision correction to get the clearer vision. It is a process of using Excimer laser to scuplt the cornea and improves the vision. An Excimer laser uses ultraviolet beam to sculpt the cornea to treat the near sightedness, long sightedness and astigmatism.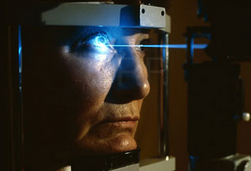 The cornea can be defined as the clear dome in the front of eye and it is made up of multiple layers. The middle layer of the cornea is scultpted through the laser Excimer. However, there are various techniques to access the middle layer of the cornea. The middle layer can be accessed through the Flap or by the removal of outer layer of cornea mechanically or by using the chemical solution.
There are various methods of laser eye surgery
• LASIK: It is a blade which is known as Microkeratome used to cut a thin flap of cornea tissue exposed in the middle layer of it. Microkeratome is a mechanical device which is lowers the involvement of surgeon in the process. This leads to problem in the creation of flap. Some cataract surgeons still use this technique.
• Intra-LASIK: It is more advanced technology which is available in the Laser care eye center. The
LASIK
is no longer in use. Intra-LASIK is two step processes which focuses at the depth of cornea and is used meticulosly to create a thin flap using bubbles. Then an Excimer is used to sculpt the cornea. This technique is expensive, but it allows the creation of more precise flap with lot more control over it.
• PRK: It was the first of Laser vision correction which is available in the U.S. In this procedure the outer layer of the cornea is removed mechanically before sculpting the eye with an Excimer laser. There is no formation of flap in PRK.